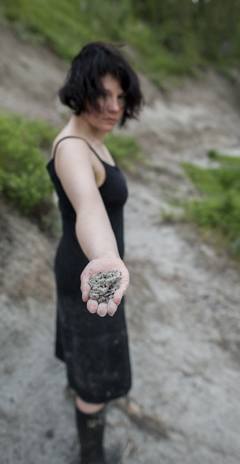 Jen Mesch Dance Conspiracy is a militia of dancers, artists, scientists and citizens.
"If it is the job of the artist to reflect back our society to us, Jen Mesch takes it one step further – or rather sideways – and reflects us back at ourselves in our most humorous, contradictory and vulnerable states. Her fascination with the human animal shines through in all that she does, and makes us aware of ourselves in ways that make us seem both alien and more human all at the same time. She is a rare talent." – Julianna Barabas
To say that dancer/choreographer Jen Mesch inhabits any performance she gives is an understatement. Described as enigmatic, unusually perceptive and artistically fearless, Mesch's wide variety of interests often lead her to unique collaborations in unexpected places.
Mesch has created over 200 works for dance performances and experimental theatre in the US and Canada. She has danced with Dawn Cargiulo Berman (Momix), Penny Hutchinson (Mark Morris Dance Group), Jack Magai (Troy Chainsaw Ensemble), Linda Mannheim (Martha Graham Dance Company), Jennifer Monson (Birdbrain Dance), Gerry Morita (Mile Zero Dance) and Kimberly Young (a canary torsi). For over a decade Mesch has worked primarily with experimental musicians and has performed with Roger Admiral, Newton Armstrong, Allison Balcetis, Stephan Moore, Scott Smallwood, XIME, and Nate Wooley. She also teaches dance improvisation and technique, and her writings on dance have appeared in The Dance Current (Canada) and on her own Dance Conspiracy blog.