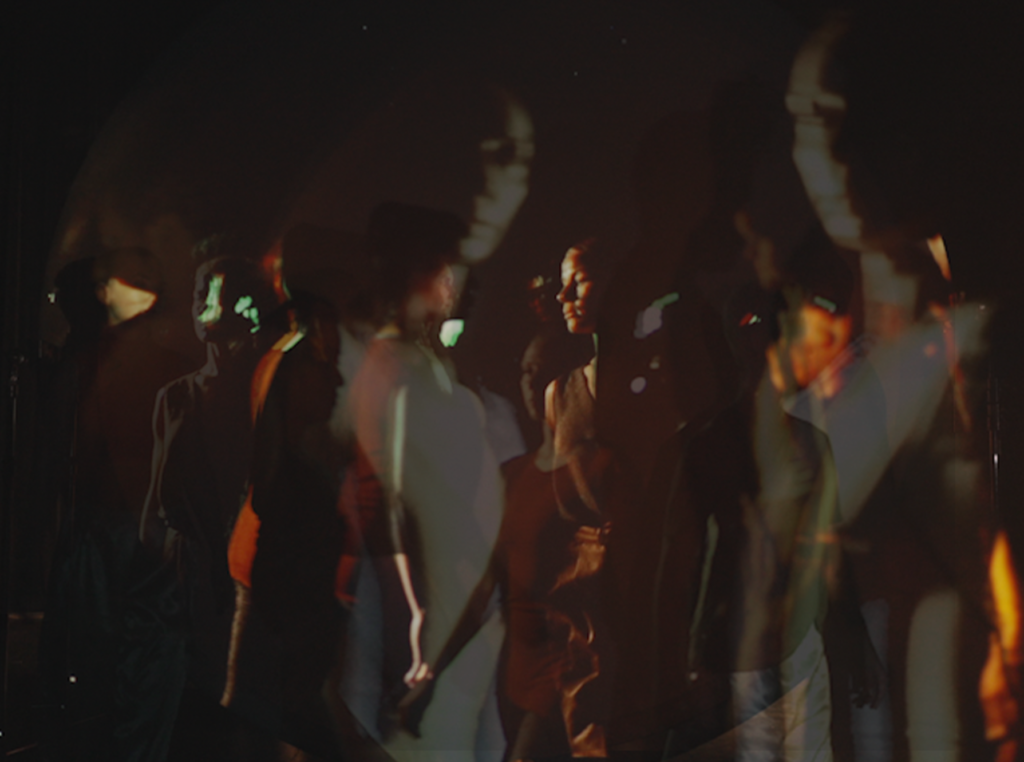 –
I look back one more time – it's like a crater, a hole where something happened. – Emma Donoghue
Choreography by Jen Mesch (with contributions from the dancers)
Video art projections by aAron Munson
Performed by Raena Waddell, Phil Kloc, Kathleen Hughes, Jason Romero, Giovanni Young, Deanne Underwood, Bridget Jessome, Alison Kause and Alida Kendell
Music by Evidence (Stephan Moore and Scott Smallwood)
Set by Larry Kelly
Dance Dramaturgy by Nancy Sandercock
Lighting and sound design by Chris Peck
-brief intermission-
Breccia
Dance performance by Stacey Murchison, Nancy Sandercock, Jen Mesch and Gerry Morita
Music performance by Evidence
Live video by aAron Munson
Set by aAron Munson with Larry R Kelly
Biographies
Jen Mesch
(concept, choreography, direction, dance) is originally from the small village of Empire, Michigan and has been living in Edmonton since 2009. She began her artistic life as a violinist and self-taught dance improvisor until she started studying modern dance in adulthood under Therese Povolo. She completed a bachelor of science degree in biological sciences (botany emphasis) and dance from Western Michigan University. After graduation in 1997 she moved to New York City and continued to study dance at numerous locations, particularly at Merce Cunningham Dance Studio. She also spent hours in the New York Public Library viewing historic dance works that were otherwise inaccessible in the pre-online video sharing era. She has since created over 200 works for dance performances, film, and experimental theatre in the US and Canada. She has performed with and for Cindy Baker, Dawn Cargiulo Berman (Momix), Daria Faïn (Prosodic Body), Penny Hutchinson (Mark Morris Dance Group), Jack Magai (Troy Chainsaw Ensemble), Linda Mannheim (Martha Graham Dance Company), Jennifer Monson (Birdbrain Dance), Gerry Morita (Mile Zero Dance), Sonja Myllymäki, Susan Tenney (Jane Erdman Dance) and Kimberly Young (a canary torsi). For over two decades Mesch has worked primarily with living composers and live musicians and has performed with Roger Admiral, Nico Arnáez, Allison Balcetis, Sandra Joy Friesen, Stephan Moore, Will Northlich-Redmond, Scott Smallwood, and Nate Wooley. She was the 2016-2017 Artist in Residence at Harcourt House which culminated in a two month dance, film, and visual art installation in fall 2017. Her film Hard White Spring received the award for Outstanding Experimental Film or Video at FAVA Fest and it was a semi-finalist in Cinema d'iDEA festival in Rome. Her first film, Soft Red Winter was screened in the Venice Short Film Festival. Since 2020 Mesch has been practicing Gaga dance principles, taking frequent advantage of the international availability of online classes and longer intensive workshops with Saar Harari and Shahar Binyamini .
In addition to her life as a dance artist, Mesch has worked as a cardiac sonographer since 2003 and has credentials in adult, pediatric and fetal echocardiography. She is the pediatric echocardiography education coordinator at Stollery Children's Hospital where she trains physicians and ultrasound students, and organizes international conferences in 3D echocardiography to improve surgical outcomes, and fetal heart screening to help community OB sonographers and radiologists increase the rate of detection of fetal heart disease in western Canada and beyond. Since moving to Alberta she has been a long time volunteer at the University of Alberta Dino Lab where she has prepared many fossils and contributes to field work and fossil prospecting. She also volunteers for Royal Ontario Museum's Southern Alberta Dinosaur Project.
Mesch's upcoming projects include post production on a new film collaboration with New York trumpet player Nate Wooley supported by The Shifting Foundation.
aAron Munson (video) is a Canadian filmmaker, cinematographer and multimedia artist. His work has taken him from his personal studio to war zones, high-Arctic weather stations, reindeer nomad camps in Siberia, and the Arabian Desert. aAron's projects tackle extreme human experiences, both far from and close to home, utilizing film, video, photography and sound to create explorations relating to mental illness, memory, and the nature of consciousness.
–
Heather Bouchier (costume advisor) is originally from Beardy's & Okemasis Cree Nation in Saskatchewan, and has been in Edmonton since 2005. She attended Fashion Design school in Saskatoon and has been sewing since 2001. Her design aesthetic includes the use of thrifting, up cycling, some traditional techniques and materials such as beadwork, horsehair, dentillium and hides. Heather is inspired by vintage styles and blends them with modern design. She owns her own business as a custom seamstress, costume designer, tailor, and jewelry artist. Heather has shown her collections all over North America, Japan, and most recently Vancouver Indigenous Fashion Week. She serves as Fashion Director for Heart of the City Festival and is the Creative Director of the Indigenous Empowerment Fashion Collective. They focus on creating opportunities to all Indigenous youth who wish to follow dreams in the Fashion Industry.
Instagram: @heatherbouchierdesign
Facebook page: @heatherbouchierdesigns
Kathleen Hughes (dance), originally from Edmonton, Alberta, began her love of dance with ballet training at an early age. She was later introduced to modern dance while attending a dance program at Grant McEwan College. Ms. Hughes then completed her modern dance studies at The School of the Toronto Dance Theatre. In 1999, Ms. Hughes co-founded a dance collective called The Aurora Dance Community. During this time she had extensively produced, choreographed, and performed for this professional collective for five years. Since 2005 Kathleen has been teaching and choreographing for a variety of dancers from beginners through to professional level. Her love of creating dances has brought her to produce and co-produce, choreograph and perform in many dance productions for Niagara Dance Company, KHDA and several independent projects. Kathleen is very grateful to Jen Mesch for this wonderful opportunity to be a part of this rewarding process and to work with this lovely group of artists in this production of Go Where Light Is.
Bridget Jessome (dance) is a Canadian choreographer and dancer based in Edmonton, Alberta. Her work has been performed in Edmonton and Montreal in festivals such as Bouge D'ici, Semaine de la Danse, Nextfest, Feats Festival, and has been presented by the Good Women Dance Collective. Since graduating from Concordia University (Montreal, Quebec) with a BFA in Contemporary Dance she has worked with dance artists such as Peggy Baker, Mile Zero Dance, Justine Chambers, Jen Mesch, Ainsley Hillyard, Amber Borotsik, and Stephanie Morin-Robert. Her practice is informed by the simple narratives of the human body, and carried out with the love and action of movement.
Alison Kause (dance) is a founding member of the Good Women Dance Collective and a teacher in Dance Education with Edmonton Public Schools. She is a graduate of the Grant MacEwan Dance Program and the School of Contemporary Dance at SFU, as well as the Education program at the University of Alberta. She has trained and performed across Canada and been inspired by work with local and international colleagues. Alison is inspired by the challenge of finding an intersection between being an artist, mother and teacher – these roles constantly demand attention, inform one another and provide diverse perspectives.
Alida Kendell (dance) is a dance artist, teacher and choreographer in Amiskwacîwâskahikan. She is a collective artist with Good Women Dance Collective (GWDC) and has been shaped, challenged and encouraged by its programming, its artists and the communities GWDC engages with. She has been most influenced by the creative processes of Mélanie Demers, Peggy Baker and Sasha Kleinplatz. Alida has performed in several dance theatre works including BEARS and The Other (Pyretic Productions) and choreographed for Punctuate Theatre's production of The Particulars and Northern Light Theatre's Cardiac Shadow. She is curious about the process of enabling physical change through introspection and play, and currently practices durational improvisations that take her further away from and closer to herself.
When Phil Kloc (dance) was 14 he almost got beat up at a graduation party because someone did not like his dancing. Realizing the profound impact dance can have on spectators, Phil looked for a safer venue to release his dance energy. In 1998, when Phil was in 3rd year engineering at the University of Alberta, he discovered the Orchesis Modern Dance Group. Since then dance has been an important part of his life. He has performed in Orchesis Dance Motif, DanceFest at NextFest and with Jen Mesch Dance Conspiracy. He is very grateful for being invited to dance with this amazing group of dancers in Go Where Light Is.
Stephan Moore (music) is a sound artist, designer, composer, improviser, programmer, engineer, teacher, and curator based in Chicago. His creative work manifests as electronic studio compositions, improvisational outbursts, sound installations, scores for collaborative performances, algorithmic compositions, interactive art, and sound designs for unusual circumstances. Much of his work has been realized in collaborative projects, most notably with sound artist Scott Smallwood in their duo Evidence and with choreographer Yanira Castro in the collective a canary torsi. He is the curator of sound art for the Caramoor Center for Music and the Arts, organizing annual exhibitions since 2014. He is also the president of Isobel Audio LLC, which builds and sells his Hemisphere loudspeakers. He was the music coordinator and touring sound engineer of the Merce Cunningham Dance Company (2004-10), and has worked with Pauline Oliveros, Anthony McCall, and Animal Collective, among many others. In 2019, he co-founded the Chicago Laboratory for Electro-Acoustic Theater to promote and encourage the creation of multichannel audio works. He is a Distinguished Associate Professor of Instruction in the Sound Arts and Industries program at Northwestern University. Stephan Moore first collaborated with the Jen Mesch Dance Conspiracy in 1995.
Gerry Morita (dance)
Stacey Murchison (dance) is a dance/theatre artist and educator. She is currently a PhD candidate in Dance Studies at York University. Stacey holds an MFA in Theatre Practice from the University of Alberta and a BA in Dance and Kinesiology from the University of Calgary. She was a company member of EDAM dance in Vancouver BC between 2006 – 2014, practicing contact improvisation and interpreting the works of artistic director Peter Bingham. She is a certified yoga instructor and has also been independently producing experimental dance videos since 2006. Stacey is excited to perform with The Jen Mesch Dance Conspiracy!
Jason Romero (dance) is a nationally recognized dance artist of Latin American descent from Treaty Six Territory. Working for both stage and film, Jason's successes span a multitude of mediums and audiences. Spending his formative years training at Marr Mac Dance he trained in ballet, jazz, lyrical and contemporary dance, he later moved to Vancouver where he continued to train in a number of diverse disciplines and further established his career as a dance artist. Jason has danced and presented works all over Canada and the United States.
Nancy Sandercock (dance) Nancy Sandercock's work investigates ineffability and the power latent in nonhierarchical structures through dance, visual art and experimental sound. She was a founding member of the post-rock group Polar Goldie Cats (1992-2015); performed in artist Mike Kelley's Day is Done (2005); danced for visionary choreographer Yvonne Rainer and acted in filmmaker Kyle Armstrong's breakthrough feature Until First Light (2018). Her work has been co-produced by Canada Council for the Arts, The Alberta Foundation for the Arts, The Edmonton Arts Council, Brian Webb Dance Company and Mile Zero Dance.
Scott Smallwood (music) is a sound artist, composer, and performer who creates works inspired by discovered textures and forms, through a practice of listening, field recording, and improvisation. In addition to composing works for ensembles and electronics, he designs experimental instruments and software, as well as sound installations and audio games, often for site-specific scenarios. Much of his recent work is often concerned with the soundscapes of climate change, and the dichotomy between ecstatic and luxuriating states of noise and the precious commodity of natural acoustical environments and quiet spaces. He performs as one-half of the laptop/electronic duo Evidence (with Stephan Moore) and teaches as a professor of composition at the University of Alberta, where he also serves as the director of the Sound Studies Institute.
Deanne Underwood (dance) is an Edmonton-based fiber artist. Her felted landscapes are available at the AGA and the Royal Alberta Museum as well as on her website www.prairiegirlfelting.ca. Deanne's dance training is in classical ballet as well as jazz, tap, musical theater and modern. She performed for two seasons with the Goh Ballet and trained at the School of Toronto Dance Theater. She has collaborated with Raena Waddell, Jeannie Vandekherkove, Kathy Ochoa and Barbara England. Deanne has choreographed for Orchesis Dance Society at the University of Alberta and the Edmonton School of Ballet. She has presented her own work at Mile Zero Dance and at Good Women Dance Collective events. During her eighteen years working as a Massage Therapist, Deanne was the RMT on call in YEG for performers at the Citadel Theatre, Kidd Pivot and the Alberta Ballet as well as The Vinyl Cafe, Rugby Canada and various Olympic athletes and teams.
Fascinated with the human body communicating through movement, Raena Waddell (dance) has built a career of over 20 years as a dancer, choreographer and movement instructor in Edmonton. She has premiered 17 of her own choreographic works in Alberta, has been recognized by the Edmonton Arts Council, Alberta Foundation for the Arts, and received the Brian Webb Dance Company Award training extensively with both Heidi Bunting and Brian Webb. Raena has continued her education in Garuda Matwork and Apparatus with founder, James D'Silva. Raena holds her Pilates Method and Hatha and Yin Yoga certification, studying with Tracy Friesen, Melanie Checknita and Joe Barnett. Away from the stage, inspired by numerous choreographers and body work philosophies, Raena teaches movement classes in hope of encouraging a sense of curiosity in her students as to how and what makes their body move. She has 12 years experience as an instructor with the City of Edmonton and with Orchesis Dance Society at the University of Alberta. She was last seen on stage November 2019 performing in Punctuate Theatre's The Particulars. Raena has recently taken her movement education and performances online and over social media for students and audiences around the world to participate from the comfort of their own homes. @Raena.Waddell
Giovanni Young enjoys strange movement and is very inquisitive about contemporary dance. Born and raised in Edmonton, Giovanni practices various martial arts, multimedia visual art, photography, culinary arts and live music. Giovanni has performed with Mile Zero Dance since 2018, and enjoys working with Jen Mesch and this ensemble.
–
Acknowledgements
Jen Mesch Dance Conspiracy would like to thank the many people and organizations who contributed and inspired us throughout this process:

Our friends and families
Mile Zero Dance staff, board and volunteers who have worked many long days and nights to make this space ready for Go Where Light Is, including planning, designing, grant writing, tearing down, rebuilding, painting, moving and removing – especially Gerry Morita, Ryan Shields, Aaron Harrity, Eryn Tempest, Linda Rubin, Trent Crosby, Bryan Roberts, Idris Fashan, Falon Scheers, Katrina Smy, and many many others.
Cindy Baker
Tom Owen
Sameer Singh
Dylan Rhys Howard
Gary James Joynes
dc3 art projects
Film and Video Society of Alberta
Edmonton Arts Council and The City of Edmonton (development grant and production grant)
Alberta Foundation for the Arts (development grant)
Mile Zero Dance Quarantine Residency
Sugar Swing Ballroom
Our new friends and neighbours at The Monolith, The Bent Stick and Sea Change Brewing