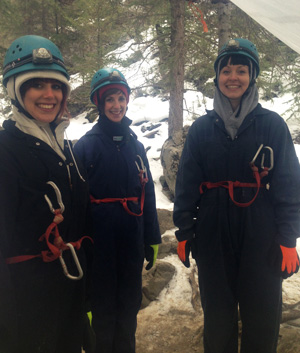 "Guys? This is a legit adventure."
-Ainsley Hillyard on her first descent into the cave
Cavern is an interdisciplinary installation combining dance, video, sound and architecture.
We went to extremes to take a group of dancers and a film crew below the surface of the earth and into a cave in Grotto Mountain near Canmore, Alberta. Our next step is to build an abstracted cave environment that the audience must navigate in order to experience the images captured in the cave.
The Dance Conspiracy Cavern team:
Choreographer/Director/Producer: Jen Mesch
Filmmaker/Installation Artist: Matt Vest
Sound Artist/Composer: Scott Smallwood
Video Artist: Madeleine Gallagher
Composer: Frank Lewin
Dancers: Jen Mesch and Good Women members Ainsley Hillyard, Alida Nyquist-Schultz and Kate Stashko
Assistant: Scott Portingale
Extra special thanks to everyone at Rat's Nest Cave (designated as a provincial historical site): Chas Yonge and Adam Walker, Eli, Kevin and Lenora
Cavern is being made possible in part by grants and donations. Many thanks to:


dc3 art projects
And to our private donors!
You can help Cavern as well, and we will honour perks according to our Indiegogo campaign!
We still have perks from our fundraiser that we will be happy to honour.
$10 = A squeeze! (A hug in this case, but in caving a squeeze is very narrow opening, usually just big enough for a person to pass through)
$25 – Free music download from Cavern and a squeeze!
$50 – Free video download of scenes from Cavern, free music download, and a squeeze!
$50 – special deal! A truly unique Jen Mesch Dance Conspiracy Cookbook, in full colour with recipe contributions from past and present collaborators. And a squeeze!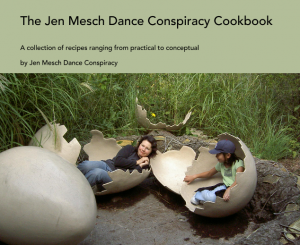 $75 – Cookbook, music and video, and yes, a squeeze!
Sorry! As of March 30, 2014 we out of action figures! The cookbook is very amusing, though. And really, you should go for the caving adventure. Adam at Rat's Nest Cave is just a stellar human being, and the rats are less like rats and more like cute hamsters.
Many thanks from all of us!